Dropshipping is an excellent business strategy for budding entrepreneurs, to begin with since it is simple. Dropshipping allows you to test different business ideas quickly and without risk, allowing you to learn a lot about how to find and promote in-demand commodities.
Table of Contents
1. What is Dropshipping & How is it different from the Standard Retail Model?
2. Dropshipping In 2022: Advantages of Dropshipping
3. Dropshipping in 2022: Disadvantages
4. How Do Dropshippers Generate Income & How Much Do They Earn?
5. How To Get Started With Dropshipping In 2022
6. Is Dropshipping Viable In 2022?
What is Dropshipping & How is it different from the Standard Retail Model?
Dropshipping is a retail fulfillment method in which a store does not stock the things it sells. Instead, it purchases the item from a third party and arranges for it to be delivered to the buyer. As a result, the seller is no longer required to touch the product directly.
Difference b/w Drop Shipping & Standard Retail Model: The main distinction between dropshipping and traditional retail is that the selling merchant does not stock or hold inventory. Instead, the seller buys inventory as needed from a third party—usually a wholesaler or manufacturer—to fulfill orders.
As per Google trends, "how to start a dropshipping business?" is quite a popular keyword.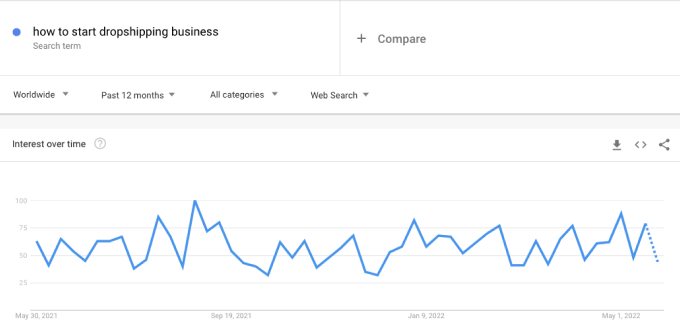 This indicates that you are not the only person considering launching an eCommerce dropshipping business soon. So why go on board? Here are some advantages.
Dropshipping In 2022: Advantages of Dropshipping
Here are a few more reasons why dropshipping is so popular.
Reduced Startup Costs: Businesses that use a dropshipping method save money by not investing in inventory or creating a warehouse. They also save time by not having to organize their inventory or hire a staff to fulfill orders.


Low startup cost



The advantages of Dropshipping includes it has a low barrier to entry since you can start a dropshipping business even if you don't have the cash to run a typical retailing operation. You can start an e-commerce store without spending thousands of dollars on inventory. There is no need to buy a thing unless you have already sold it and received payment from the consumer. Launching a dropshipping store is less risky than starting a regular retail business.

Simplified Inventory Management: Dropshipping decreases the management burden that retailers experience by eliminating the requirement to keep physical inventories. They are not required to track inventory, manage the infrastructure that houses it, or manage shipment, which is outsourced to suppliers.

Scalability Is Improved: As order fulfillment is not reliant on the size of the physical facility or the number of personnel required to ship out an order, a drop shipping company may scale swiftly. As a result, dropshipping can tremendously assist retailers who have variable sales owing to seasonal considerations or other factors. If you choose dropshipping providers, the suppliers will bear the majority of the effort to process more orders, allowing you to expand with fewer growing pains and less incremental work. Sales growth will always bring more labor, particularly in customer care, but dropshipping firms scale extremely effectively in comparison to typical e-commerce businesses.

Wide Range Of Products: Dropshipping expands product possibilities. Retailers can offer a broader assortment of products, allowing a small firm that would not be able to offer as many options without storage to sell a diverse range.


Product range



As you don't have to pre-purchase the items you sell, you can provide a diverse choice of trending products to your potential customers. If your suppliers have an item in stock, you can put it for a sale on your online store for free.

Flexibility: Many aspects of a retail business benefit from dropshipping. A brand can operate from anywhere, offer a variety of products, and easily adjust its offers as market preferences shift.


business flexiblity



A dropshipping business can be operated virtually from any location with an Internet connection. You can run and manage your company as long as you have easy access to suppliers and customers. This is what makes dropshipping so appealing to retailers!

Low Overhead Costs: As you are not responsible for acquiring inventory or managing a warehouse, your overhead expenses are kept to a minimum.


Low cost



In reality, many successful dropshipping businesses are managed from home, with little more than a laptop and a few recurrent expenses. These costs will be more likely to rise as you expand, but they will remain inexpensive in comparison to typical brick-and-mortar enterprises.

Simpler To Test: Dropshipping is an effective fulfillment strategy for both launching a new store and for business owners wishing to gauge client interest in additional product categories, such as accessories or entirely new product lines.
Dropshipping in 2022: Disadvantages
All of the advantages we've discussed make dropshipping a very appealing concept for anyone starting an online company or trying to extend their existing product offers. Dropshipping, like all approaches, has drawbacks. In general, ease and flexibility come at a cost. Here are a few flaws to examine.
Excessive Reliance On Third-Party Vendors: Retailers are typically dependent on their suppliers to some level, but this is especially true for those who employ drop shipping services. When a third-party supplier fails to fulfill an order on time, the retailer bears the cost when the client complains. Similarly, if a supplier goes out of business unexpectedly, the retailer's business operations will be severely disrupted.


Third-party issues



These types of problems would be less severe if a merchant had physical inventory on hand, allowing operations to continue while looking for a new source. In the case of such a disruption, it is critical for new brands to have a working contingency plan in place.
Errors By Suppliers: Even the greatest dropshipping suppliers make blunders in order fulfillment—mistakes for which you must accept responsibility and apologize. Mediocre and low-quality suppliers will cause constant annoyance due to missing items, botched delivery, and poor packing, all of which can harm your company's reputation. Dropshipping places third-party control over issues such as product availability and quality control. It denies shops the right to inspect things before shipping them to customers or to provide value-added services such as pre-installing software on a phone or engraving a personalized message on jewelry, this could lead to uncontrollable & unwanted errors.
Inventory Problems: It's quite easy to maintain track of which items are in and out of stock if you carry all of your own products. However, when you source from numerous warehouses that also fulfill orders for other merchants, inventories can fluctuate on a regular basis.


Inventory problems



Fortunately, there are now a few programs that allow you to sync with providers. Dropshippers can "pass along" orders to suppliers with a few clicks and should be able to see the supplier's inventory in real-time.
Fierce Competition: Due to the simplicity with which a store can take advantage of dropshipping, you're likely to face stiff competition. Unless your company has an exclusive deal with a supplier to dropship specific products, competitors can sell the same products you do.


Tough competition



This means that businesses that rely on dropshipping may struggle to stand out because they won't be able to offer items or services that are distinctive to their brands. Retailers will have to compete in other ways, such as creating a memorable, user-friendly eCommerce experience.
Shipping Complications: If you engage with numerous suppliers, as most dropshippers do, the products on your online store will come from a variety of dropshippers. This raises your shipping prices. If the consumer orders three things, all of which are only accessible from different providers.


complex shipping process



You will pay three different shipping expenses for sending each item to the client, but it is unlikely that you will pass this charge on to the buyer. Even when including these costs makes it logical, automating these computations can be tricky.
Limited Scope For Customization: Dropshipping, unlike custom-made products or print-on-demand, does not allow you much control over the product itself. Typically, the dropshipped product is created and branded by the supplier.


limited scope for customization



Although some suppliers can adapt your company's product adjustments, the supplier retains more control over the product itself. Any adjustments or additions to the product itself normally necessitate a minimum order number in series for the manufacturer to be feasible and economical.
Difficult Customer Service: When an order goes wrong, offering customer service to resolve the issue is more challenging for shops that do not control their inventory.


Difficult customer service



If the consumer has a query about the goods, says it was defective, or claims they never received them, the retailer may need to work with the third-party seller to fix the problem. This adds additional work and management overhead to the order fulfillment process than if no supplier is involved.
How Do Dropshippers Generate Income & How Much Do They Earn?
Dropshipping companies act as product curators, finding the best combination of products to sell to customers. Remember that marketing is a cost you incur in both time and money by assisting potential customers in finding, evaluating, and purchasing the proper product. You must also factor in the expense of providing customer care whenever a product or shipment issue arises. Last but not least is the initial price at which your supplier sells the product.
The average monthly income varies according to the niche and target market. A variety of elements, such as seasonal fluctuations, market trends, your marketing approach, and so on, all play a role. Dropshippers typically make 15-35% profit on each sale, earning between ₹80,000 and ₹40,000,00 each month. With each dropshipping product sale, a drop shipper should always strive for a profit margin of more than 20%.

How To Get Started With Dropshipping In 2022
Take a look at the following suggestions before your enter the dropshipping business:
Focus on your expertise and make growth plans. The first step is to locate the appropriate market opportunity. As previously said, it is simple for merchants to start dropshipping — thus you must locate a consumer niche that is not already saturated by other sellers dropshipping the same things you intend to offer.


growth plans



A good strategy is to concentrate on discovering things that are normally difficult for buyers to purchase without directly engaging a supplier, but also difficult for merchants to keep in their own physical inventory.
Develop your own dropshipping website. You're ready to build a dropshipping website once you've established your product focus.


dropshipping website



There are numerous eCommerce websites & systems available to assist with this work, and it is critical to select one that corresponds with your business goals.
Manage your finances. While dropshipping takes a low initial commitment, competent financial management is essential in order to create a profit over time. Keep track of the profit made by each sale, and don't be hesitant to branch out into new product lines if your existing line isn't earning the promised revenue.


financial management



You should also regularly review your dropshipping partnerships. You might be able to discover a new supplier who charges less for identical things. This level of customization is essential for optimizing dropshipping's earning potential.
Work with suppliers to complete orders. Because dropshipping providers play such a crucial role in the fulfillment process, it is critical to select one that is dependable and provides quick order processing.


Supply-Chain management



Conduct your homework and look for established suppliers who have a proven track record of successful retailer partnerships. Develop ties with numerous suppliers so that if one runs out of an item — or goes out of business — you have a backup ready to take over. Order and test a few things from each to check if they can deliver high-quality goods on schedule.
Address legal concerns. Dropshipping is totally legal in and of itself, however, it might cause legal concerns if the process is not handled correctly. To avoid tax underpayment, you must pay attention to the countries where your inventory is housed while calculating sales tax.


Legal issues



Counterfeit merchandise can also pose legal problems for dropshipping shops, as you may be held liable if your suppliers ship counterfeit goods. You may also be held accountable for trademark or licensing breaches on products distributed through your shippers. Choosing dependable, recognized suppliers, as well as inspecting the things you sell for signs of potential problems, can help lessen these risks.
Is Dropshipping Viable In 2022?
As already stated, what is Dropshipping, and how does dropshipping offer various advantages? To establish a business, however, hard work is always required. While working at scale, the paradigm offers certain distinct advantages and complications.
The good news is that with proper preparation and consideration, most of these obstacles can be overcome and you will be able to develop a healthy, profitable dropshipping business. We hope this guide has clarified what dropshipping is and that you are now ready to start your own dropshipping business.
It's a business model, which doesn't need a huge or lumpsum investment due to the lack of inventory management. Though, a small amount of investment in terms of customer support and marketing is needed hugely to boosts the business's traffic and enhance profits.
Yes, it's like any other type of business, it is a legal process of earning amounts through selling items which are not present physically in your own store. It more of a kind of legitimate model of business which is covered by the recent regulations under the business segment of world legal system.
Many dropshipping suppliers offers varieties of communications modes which you can contact them through. So, associating with relevant suppliers should not be a issue at all.