Building a website at Joonweb.com is a quick and user-friendly process. With Joonweb.com, an AI website builder, you can start from scratch and browse website templates to create a website. Joonweb gives you can option to create an informative and eCommerce website or online store.
Informative Website: The primary purpose of an informative website is to provide information to visitors. This information can be in the form of articles, blogs, news, educational content, or any other type of content that educates or informs the audience.
eCommerce Website: An eCommerce website, on the other hand, is designed primarily for conducting online transactions. Its purpose is to sell products or services to customers and facilitate the buying process.
JoonWeb is a suitable option for small businesses, enterprises and individuals that are looking to build their own website from scratch & have an online presence. Here you can also create a website without having knowledge of web development and design. The builder offers you a variety of types for all kinds of businesses with advanced, search engine optimized AI-based attractive templates.

These are the steps you could follow to create a website on JoonWeb within minutes:
Step 1: Create an account
JoonWeb gives you various options to register yourself on the website or create your joonweb account. To start to create a website, you have to visit Joonweb.com.
Follow these steps to create an account on joobweb:
Click on the Try For Free button.
You have to sign-up using your Email, phone number & password.
Click on Start Your Free Trial
In addition, you can also sign-up by clicking on Continue with Google.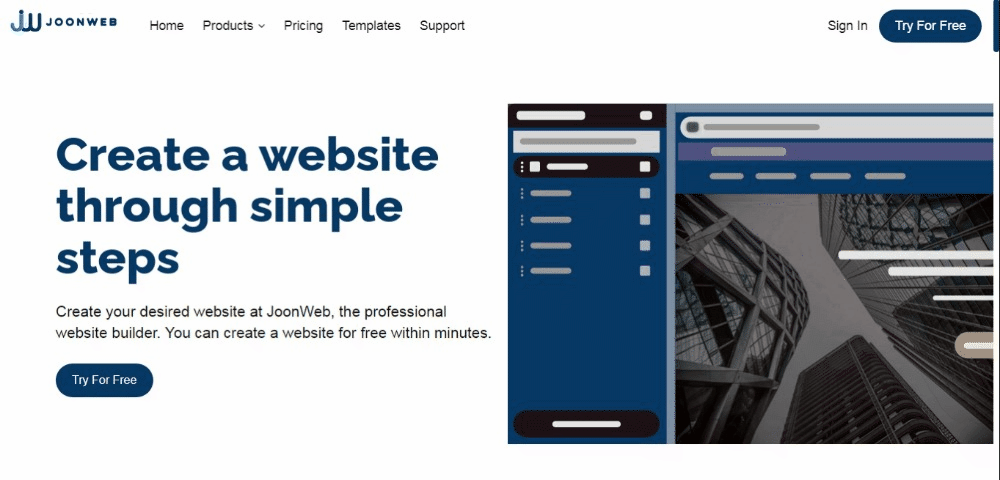 Step 2: Create your website
Create your website
Joonweb.com gives you the type of website you want to create among offered suggestions- Informative or Ecommerce. Thereafter, you are given multiple category types (for eg. Tour & Travel, Astrology, Automobiles, etc.). Apart from that, you can even search for your category by searching for a topic in the given search section.
Wherein, you have to opt for one from the given multiple suggestions. In case your category doesn't match, click on the "Other" button and continue. These suggestions are here to help you easily select the website's type. Upon suggestion, you will be automatically assigned a category for your website.

Follow these steps to enter the website details:
After creating your account, you will be taken straight to your website OR On your homepage, under My Sites tab, click on Create New Site
Enter your Website Name, Website Type & Choose Category & click Continue
Step 3: Choose website layout
Upon selecting the category type (one or multiple), next you have to select the website layout. There you would find several website templates built-in by professional designers.
To go ahead, you have to select any of the templates available.Now you can choose the website color and theme. Choose the most the suitable color schemes that matches the product or service you are trying to sell. No matter what you choose, Joonweb builder provides you the freedom to change templates or colors that suit your website.
Even, though you can customize it whenever it requires. By opting for less optimized layouts to highly optimized templates you can edit these from your dashboard whenever it is required.
Give your website a unique layout and color scheme by following these steps:
Select a Layout you like
Pick up your website color & click Continue
Step 4: Adding pages to your website
Webpages consist of site objectives that you want to pursue. These web pages will display the information you want your visitors to find. A website is a collection of webpages and these pages provide unique information. Initially, depending on the type, your website wil open with some pre-created pages.
Here's how you can add a web page:
In your website builder, navigate to the top left
Click on Add Page option
Select the page type & layout
Step 5: Adding Content
Once you add the web pages you want, you can edit the content from the dashboard by clicking on "Edit" of a particular webpage. You can replace the dummy/suggested content according to your requirements. To give an amazing look to the content you can also use different colors and highlight the content using Italic, Bold, & Underline content. You can also use animations on your pages by clicking on the setting icon and animation in consecutive stages.
Steps to add content to a section/page:
Navigate to the section/page you want to add content to
Click on the Edit button
Enter the relevant details and click on UPDATE button
AI Content
One of the most exciting features offered by joonweb includes AI generated content tha makes it a child's play to create a website for any beginner. After selecting the AI Content option on the left side, you can get access to AI generated titles, subtitles, & detailed paragraphs.
You just have to enter minor details in that include business type, business name & topic you want the content for. After that, our AI text creator will generate unique topic related informative content that will automatically fill-up your website with relevant content within seconds.
This saves from the hassle of starting from the scratch and you can simply make changes to the existing content as per your needs. It should be noted that the target buttons can also be renamed and linked to target pages. You can also edit the forms, address, and contact details.
Follow these steps to add AI generated text to your website and save yourself a hassle:
On the right sidebar, select the AI Content option
Now in the AI text creator, you get the option to generate AI-based Title or Paragraph as per your needs
Enter your business type, business name and related topic
Click on Create Text
Step 6: Preview your website
Upon finalizing the content, pages, sections, buttons etc, you have to click on "Preview" from the top-right corner to take a preview of your website before publishing.
With Joonweb.com, one thing is key to note that you can make required changes to webpages, designs, and content even after the website is published.
Congratulations! Now you have created your own website at Joonweb.com.
You can also watch this tutorial video to that serves as a step-by-step guide to create websites at joonweb.
Step 7: Connect Domain
On your website's dashboard, click on Add Domain button under Connect Domain option. Now click on Buy New domain if you want to purchase a new domain or Connect existing Domain if you already have one.
You can check the availability of the domain name you choose. When the domain becomes available, you must click "Buy Now" to go to the checkout and place an order for it. You will be able to connect your custom domain to your website with a plan after successful payment.
You can also click on the +Buy Domain button on your homepage under Domain tab, it will redirect you to the buying page.
Step 8: Upgrade your website and make it live
If you are ready to take your website to the next level, you have to click on the "Upgrade" button. Wherein, you have to select any of the feature plans of Joonweb.
This will help your website to get a custom domain (website.com), a free SSL Certificate, website hosting, Responsive Layouts, SEO tools, and several other features. The upgrade will help you to do better on Google and double your visitors and revenue.
One can create a highly professional website free--of-cost at JoonWeb. You can upgrade your website to one of our premium plans and get access to additional features. Hiring a developer or technical designer to create a website can cost thousands of dollars.
The time it takes to create a website can vary greatly based on a number of factors, including the website's complexity and functionality, design needs, project team size, and resource availability. However, on JoonWeb, you can make your website live within minutes and make changes on a live website.
Choose a website builder like JoonWeb that can assist you in creating an Ecommerce website that will grow with your company and allow for additional functionality.